Book-rich classrooms positively affect children's reading comprehension and motivation. Research further shows that culturally responsive book-rich classrooms enhance literacy gains for children of color. Rudine Bishop, a pioneer in research on diverse children's literature, describes these books' important roles as "mirrors, windows, and sliding glass doors."   As such, diverse books help students, teachers, and families avoid what Chimamanda Ngozi Adichie refers to as the "danger of a single story." Given their importance, the National Education Association has launched a diverse books campaign to celebrate and raise awareness of the critical need for children's books about "different cultures, races, languages, and traditions."
In response to this need, the Sherman Center launched its Diverse Books Project (DBP) in April 2018. The goal of this project is to ensure that early childhood educators at our partner schools have access to high-quality diverse children's books, and opportunities to share ideas and insights about their use.
UMBC experts in the field of children's literature curated a selection of exemplary books for this ongoing project.  Each grading period, early childhood educators have the opportunity to review 15 of these books, located in a designated space in their schools (the "Book Nook"), and request one to six copies of a book for their classrooms.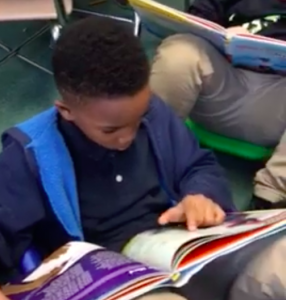 In 2023, the Sherman Center entered a partnership with WEE Nation Radio to provide further resources for teachers participating in the DBP. This collaboration has produced several children's book author interviews and read-alouds that are aired weekly on WEE Nation Radio and then kept on their Podcast and YouTube channel for teachers to use and share with students and their families. Listen to WEE Nation Radio below!