The Sherman Center is excited to announce its first daylong research conference to highlight projects conducted by our stakeholders in the early childhood education field. The goals of the conference are to (a) disseminate findings from Sherman Center-affiliated programs and funded projects to a diverse audience of early childhood education professionals, (b) encourage educators to participate in action research to build their professional expertise, and (c) promote collaborations among members of the Sherman Center community.
The conference, which will take place immediately after the 2022 Teacher Summer Institute, will include presentations from Sherman Center stakeholders, including (but not limited to) Baltimore City Public School teachers, ESOL and special educators, and school leaders; Maryland Early Childhood Leadership Program fellows; and Sherman Center Research fellows and faculty. The Sherman Center will provide professional development (e.g., introductory session on action research, feedback on proposals) to support individuals with limited research experience develop their conference proposals and presentations.
Presenters can choose from three presentation formats: 30-minute talks (20-minute talk, followed by a 10-minute Q&A), 10-minute flash talks with facilitated discussions, or a poster. In addition, each talk will provide an overview of the problem under investigation (what was your goal?), essential features of the study method (what did you do?), primary findings (what did you learn?), conclusions (what does it mean?), and recommendations (where do we go from here?). The conference will also include a networking luncheon to facilitate conversations among attendees about overlapping interests in early childhood education and foster future research collaborations.
The call for proposals will be released in January 2022.
---
Sherman Center Research Conference (SCRC)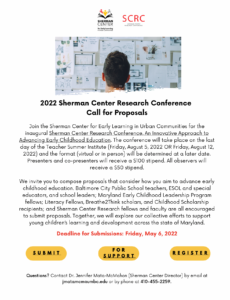 Resources
Click below to download the appropriate resources